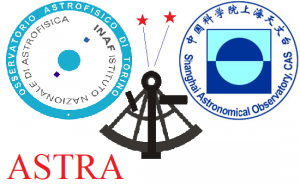 PROJECT NAME
ASTRA
Astrometric Science and Technology Roadmap for Astrophysics
SHORT DESCRIPTION
ASTRA is a bilateral project between Italy (INAF) and China (CAS, Shanghai Observatory). The goal is the development of novel concepts of astrometric space instruments for relativistic measurement at large angle / high precision, by modelling, simulation and lab demonstration, including embedded metrology and limiting precision of image location on digital detectors (CCD,CMOS).
The proposing groups have deep expertise on astrometry as a tool for Astrophysics and Fundamental Physics (Gaia, LAMOST).
The project will consolidate the ongoing collaboration and define a common technological development path, demonstrating three key concepts: multiple line of sight telescopes, astrometric metrology, location precision to <1/2000 pixel.
ROLE
ASTRA is a bilateral project, therefore INAF retains the Italian leadership, and the Shanghai Astronomical Observatory has the Chinese leadership, on equal footing.
The framework may be better appreciated by considering that the teams involved in state-of-the-art space astrometry instrumentation are very few (mainly located in Europe and USA), whereas the application fields and science needs are rapidly growing, currently driven, and limited, by the performance of the Gaia mission and its output catalogue.
TIMELINE
Start: December 2019
End: December 2022
WEB SITE
CONTACTS
Mario Gai Email: mario.gai (at) inaf.it